Location
69 Paul Drive
San Rafael CA 94903
Office hours
Mon – Sat 8:00 AM – 6:00 PM
Sun – Closed
Retaining walls are used to support and retain a mass of soil or rocks alongside a specific area. Dirt or soil can be retained at different levels on each of the sides of the wall and the structure is also used to create different elevations along a slope or where the terrain needs to be formed and retained firmly, like in hillside farming or roadway overpasses projects.
Retaining walls have to be accurately engineered and properly built to guarantee adequate resistance to the lateral pressure of the soil mass they hold. Gravity gives the retained material the tendency to move downslope, which in turn creates lateral pressure behind the wall.
Proper drainage behind the retaining wall is important to limit the pressure of the soil against it and improve its stability. In landscaping and decorative projects, self-draining retaining walls are built quickly and safely using drystone or wall blocks. But when the wall is created for more significant structural protective purposes, such as preventing serious damages due to strong erosion or shifting of the soil around the property, serious attention needs to be given to all aspect of the project permitting, design, engineering and construction.
Retaining Wall Construction Methods and Materials
Depending on their purpose and on the soil condition, retaining walls can be built utilizing varied materials and techniques. Most common materials are concrete blocks, poured concrete, treated timber, rocks or boulders.
Also known as Soldier piles (beams), Steel H piles are used as a method to temporarily support soil during excavations or to build a permanent retain wall. The vertical steel piles are installed at regular intervals (normally 3 to 5 feet increments) along the designated wall location, and then wood or concrete planked are inserted between the H piles.
Retaining walls can also be reinforced to give more strength to the wall structure and increasing its ability to retain the soil mass behind it. They can also be tied back for additional lateral and crosswise support.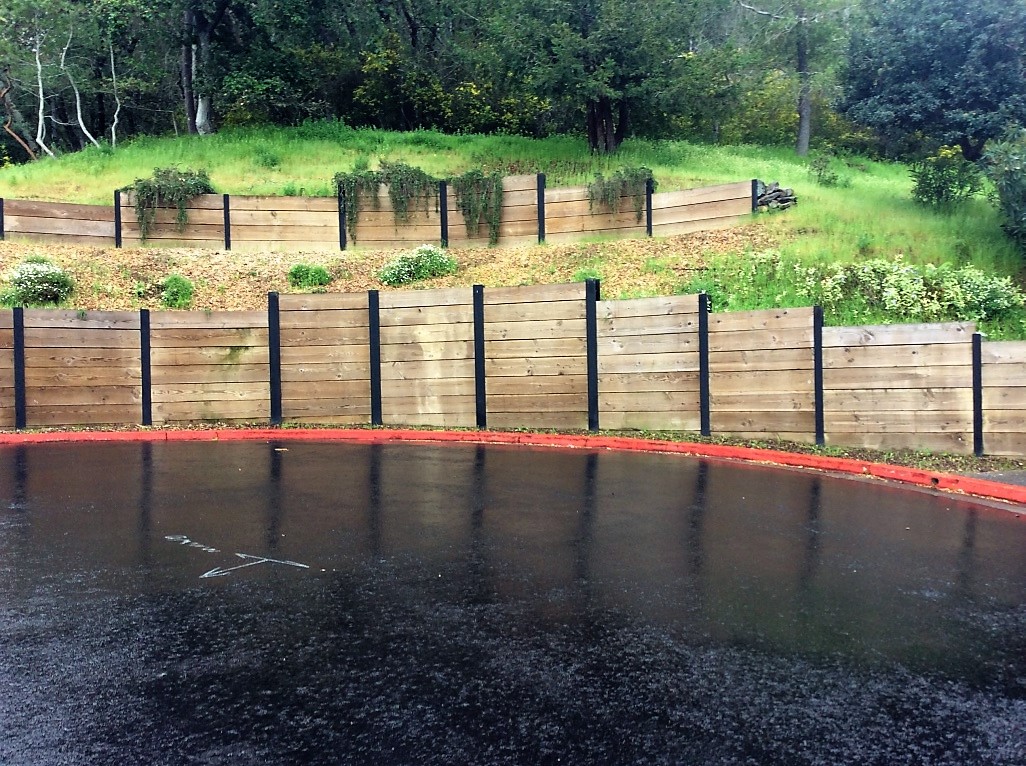 Repairing an Existing Wall
In time, lack of adequate maintenance will cause any retaining wall to need some type of repair work. Sometimes, a retaining wall will fail because of bad engineering or poor construction. That's why we inspect the site conditions and assess your goals, to be able to advise you on the specific methods necessary to build your wall or repair the existing one.
When repairing and reinforcing an existing wall, Helical Tiebacks and Anchors are a preferred method by most specialist. A bowed or leaning retaining wall is a common sign that the wall has begun to shift due to excess pressure in the soil behind it. Installing helical tieback anchors is a solution to prevent the damage from getting worse. They are large steel shafts with helical forms welded on them and work pretty much the same way that helical piers work when used in foundation repair. Each tie is screwed horizontally through the wall and into the soil, and a steel anchor plate on the inside of the wall applies tension to straighten the wall and keep it from bowing or leaning further.
I constructions & Structural offers design, supply and installation services for steel H pile retaining walls, and for repair and stabilization using Helical tiebacks and anchors.
Call us today at 415-785-7522 to get a personalized FREE ESTIMATE for your project!
Free Consultation
Our Free, no pressure, consultation allows you to find out for yourself and decide based on knowledge.
Friendly Crew
We know we are working for you and do our best to make sure you are 100% satisfied with our work.
Safety First
With over two decades of experience we place your safety above all else. All plan and projects take this as first priority.
We are a locally owned and operated company that values honesty and integrity and treats your home as if it were our own. We offer a variety of contracting services customizable to each individual project.
I Construction & Structural Inc
69 Paul Drive
San Rafael CA 94903
Office: 415-785-7522
Service: 415-424-5969