Location
69 Paul Drive
San Rafael CA 94903
Office hours
Mon – Sat 8:00 AM – 6:00 PM
Sun – Closed
Exerior Stairs
Construction and Repair
Exteriors stairs can be built both for functional and decorative purposes. Either way, they can attribute a distinctive character to your house or property. When stairs are made with a practical role, like in the construction of a higher deck or an access stairway for an actual landing or balcony, their design should never underestimate the visual impact they will ultimately bear on the property. Design and choice of materials for external stairs should then reflect both functionality and visual appeal.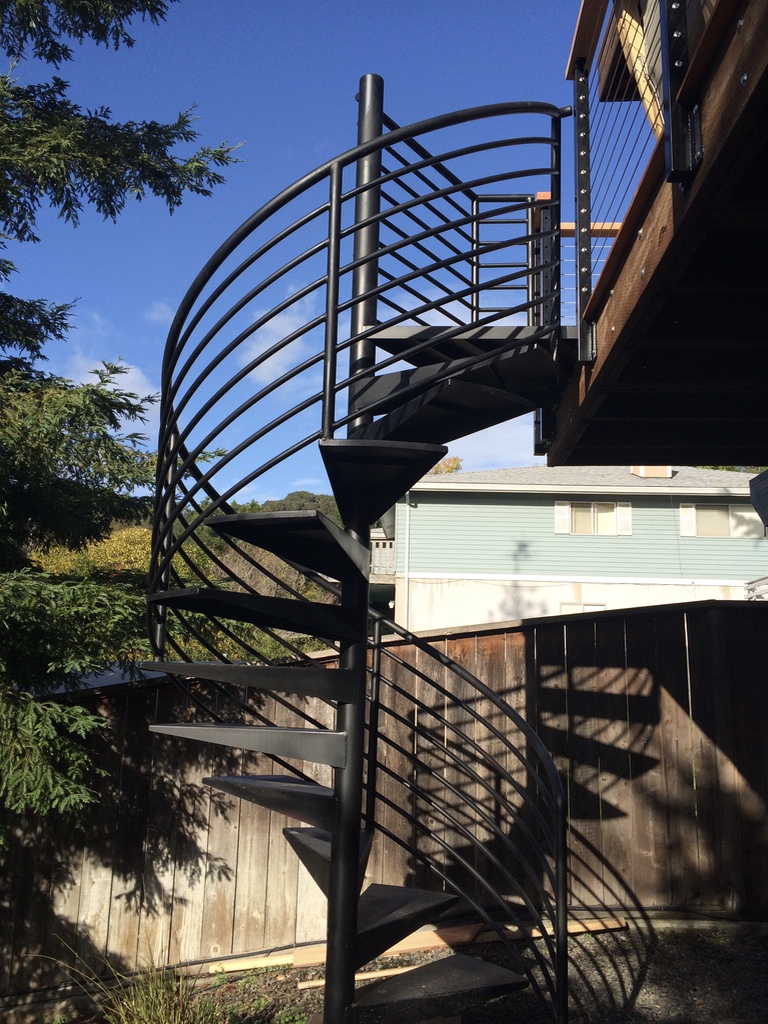 Exterior Metal Stairs
Because of its resistance against the elements, metal can be an excellent choice of material for an exterior staircase project. When combining wood and metal elements the result can also be a stunning visual effect with increased curb appeal as well as property value.
Exterior Wood Stairs
Traditional wood stairs are a reliable and efficient solution for any space, whether you are building a wooden staircase for a fire escape or additional access to a multifamily building.
Exterior Concrete Stairs
Concrete is a versatile material often chosen for architectural solutions of exterior stairs. Ideal for backyards stairs and for gently rising up a sloping area in your property, concrete steps can add a modern look to any home front entrance, both traditional or contemporary.
Handrails
Handrails are always included in the overall design and construction of a staircase or a deck.
We can build any custom handrail according to your idea and taste, whether classic or modern and always in accordance with the safety codes.
Repairing and Remodeling Existing Stairs
When remodeling or repairing existing exterior stairs, no matter what its condition is, we will make sure that your project is executed correctly and according to the local building codes. What we always guarantee is a high-quality product and service, and that design and structure meet your taste and expectations. Sometimes, an unexpected block in the road of a project might arise, but we will quickly find the best solution to any issue and will work with you to deliver the best possible product. Repairing a damaged or old staircase will handle any hazard that rotted or unsteady materials can pose, as well as improve the look of your home and increase its value.
No matter how large or small your staircase project is, we can work with you to make your ideas become a reality.
Call us today at 415-785-7522 to get a personalized FREE ESTIMATE for your project!
Free Consultation
Our Free, no pressure, consultation allows you to find out for yourself and decide based on knowledge.
Friendly Crew
We know we are working for you and do our best to make sure you are 100% satisfied with our work.
Safety First
With over two decades of experience we place your safety above all else. All plan and projects take this as first priority.
We are a locally owned and operated company that values honesty and integrity and treats your home as if it were our own. We offer a variety of contracting services customizable to each individual project.
I Construction & Structural Inc
69 Paul Drive
San Rafael CA 94903
Office: 415-785-7522
Service: 415-424-5969